The summit will be one of three forums held during a visit by Trump, who is making Saudi Arabia his first overseas stop since assuming office in January.
Salman told a cabinet meeting in the Red Sea city of Jeddah that the meeting "comes in light of the challenges and sensitive situations that the world is going through".
According to the official
Saudi Press Agency
, "he expressed his hope that this historic summit will establish a new partnership in the face of extremism and terrorism and spreading the values of tolerance and coexistence" while enhancing security.
Trump has frequently been accused of fueling Islamophobia but aides described his decision to visit Saudi Arabia as an effort to reset relations with the Muslim world.
US President Donald Trump and Saudi Deputy Crown Prince Mohammed bin Salman shake hands before lunch at the White House in Washington, DC, on March 14, 2017
NICHOLAS KAMM (AFP/File)
Trump's National Security Adviser, General H.R. McMaster said in a press briefing on Friday that the US president's visit to Saudi Arabia "will lead the first steps towards a strong partnership with the Muslim world."
"We expect our allies to take a strong stand against those who have a perverted interpretation of their religion," McMaster said.
Along with the six-nation Gulf Cooperation Council (GCC), at least 18 other Muslim nations have been invited to the summit, including Turkey, Azerbaijan, Niger and Indonesia, which has the world's largest Muslim population.
Saudi Arabia's regional rival Iran is not invited.
Trump is to also hold a bilateral summit with Saudi Arabia and talks with the GCC on Saturday.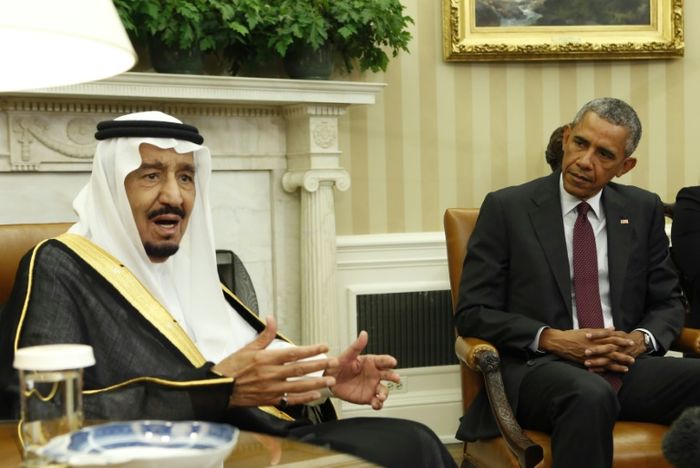 Saudi King Salman talks to the media during a meeting with US President Barack Obama in the Oval Office of the White House in Washington on September 4, 2015
Yuri Gripas (AFP)
Washington and Riyadh have a decades-old relationship based on the exchange of American security for Saudi oil.
Saudi Arabia, the world's top oil exporter, has long been a major ally of the US, but the relationship soured over Obama's initial reluctance getting involved in Syria and other regional problems, as well as the signing of a landmark nuclear accord and lifting of international sanctions against their regional rival, Shiite Iran.
The Saudis have found a more favorable ear in Washington under Trump, who has denounced Iran's "harmful influence" in the Middle East.
From Saudi Arabia, Trump will travel next to Israel before continuing to the Vatican.