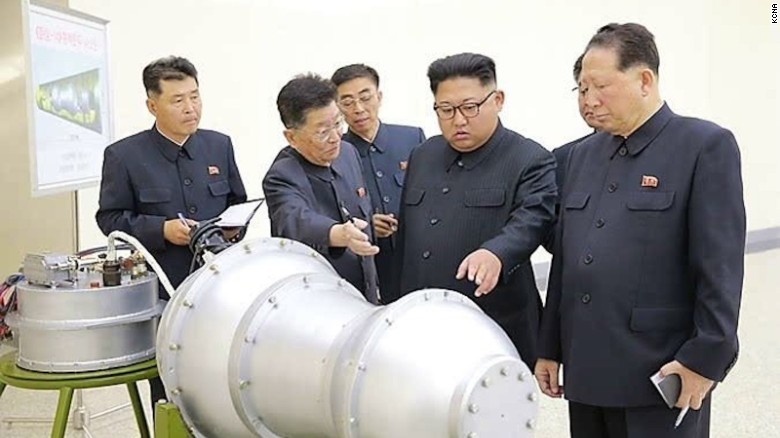 (CNN)U
S Defense Secretary James Mattis warned of "a massive military response" to any threat from North Korea against the United States or its allies in a statement outside the White House after a meeting with President Donald Trump, Vice President Mike Pence and top national security advisers Sunday.
Mattis said Trump wanted to be briefed on each of the "many military options" for dealing with the North Korean nuclear threat.
"Our commitment among the allies are ironclad," Mattis said. "Any threat to the United States or its territories, including Guam, or our allies will be met with a massive military response, a response both effective and overwhelming."
Mattis called on North Korean leader Kim Jong Un to "take heed" of the UN Security Council's unanimous position against North Korea's nuclear program and again stressed the US military's position.
"We are not looking to the total annihilation of a country, namely North Korea, but as I said, we have many options to do so," Mattis said.
After speaking with Japanese Prime Minister Shinzo Abe for the second time in two days, Trump reaffirmed the US commitment to defending the US and allies "using the full range of diplomatic, conventional and nuclear capabilities at our disposal," according to a White House readout of the call.
Trump warned earlier Sunday that the United States was considering stopping trade with any nation doing business with North Korea as a way of dealing with the nuclear threat from Pyongyang.
If carried out, that option could mean a halt to US trade with China, which has supported economic sanctions on North Korea but remains the key economic partner for the rogue nation.
"North Korea has conducted a major Nuclear Test. Their words and actions continue to be very hostile and dangerous to the United States," Trump wrote, adding that Pyongyang "has become a great threat and embarrassment to China, which is trying to help but with little success."
"South Korea is finding, as I have told them, that their talk of appeasement with North Korea will not work, they only understand one thing!" the President wrote.
Later Sunday morning, Trump again teased the possibility that the US would attack North Korea.
As he left church, Trump was asked, "Will you attack North Korea?"
Trump answered, "We'll see."
Hours before Mattis' statement outside the White House, Trump tweeted that he would meet with administration officials to discuss North Korea. He said the meeting would include the defense secretary, White House chief of staff John Kelly and other military leaders.
A National Security Council official told CNN that national security adviser H.R. McMaster also would attend the meeting, and Gen. Paul Selva, the vice chairman of the Joint Chiefs of Staff, was seen entering the White
At the meeting, the US and its allies are looking to push through a new sanctions package, senior administration officials said.
The US is pressing for passage of a resolution to curtail shipments of oil to North Korea on the rationale that it would put severe pressure on Pyongyang, which gets most of its oil from China, the officials said.
If the Chinese were to halt the shipments, it would hamper North Korea's operations, including farming, they said.